Illumina BeadArray is a highly efficient and accurate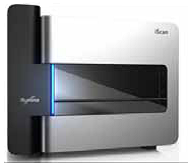 genotyping technology applied in BGI for SNP genotyping and copy number variants (CNVs) analysis. BGI offers flexible selections (Custom/Standard) for BeadArray genotyping services with two series of chips: GoldenGate and Infinium, to meet different demands. This genotyping platform is an efficient tool to perform GWAS focused on the discovery of associations of particular genes with diseases, or to validate large number of rare variants, including common SNPs from databases and de novo mutation loci discovered by next-gen sequencing.
Benefits:
High mark density: A large number SNP loci (102-106) could be detected simultaneously in a single reaction.
High reproducibility (> 99.7% and single base error rates < 0.1%), the average SNP call rate is greater than 99%
Genotyping Chips:
Diabetes-Associated Genes and Variations Study
This Sino-Danish diabetes-associated genes and variations study was launched in 2008 at BGI-Shenzhen. The LuCAMP consortium comprising ten research organizations from Europe and China was formed to carry out this project.
20,000 SNPs were selected for large scale genotyping in 17,000 samples using Illumina iSelect® Genotyping Platform
Bioinformatics:
Standard Bioinformatics Analysis:
Data production and SNP calling
Sample level QC: Sample call rate, sample mix, gender identification
SNP level QC: SNP call rate, signal quality test, Hardy Weinberg equilibrium test
Complex Disease Advanced Analysis:
Imputation
Population structure analysis: Population stratification, Sample kinship check
Association analysis
Point-wise association test, multiple test correction
Annotation analysis
Disease association, Genetic risk calculation and SNP annotation
Sample Requirements:
DNA amount: ≥ 500 ng DNA
Concentration:≥ 50ng /μL
Purity: OD260/280=1.8-2.0
Turnaround Time:
For 1000 samples the turnaround time for the workflow (above) is about 50 business days (Advanced bioinformatics analysis not included and the exact time is based on the chips used in project according to the contract).
Completion Indicator:
The average SNP call rate should be no less than 95%.