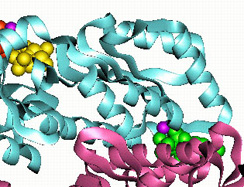 Quantitative Proteomics is a powerful approach for discovery of proteins that are differentially expressed across time, disease state, or other conditions. There are several widely used quantitative techniques, including classical gel-based (2DE, DIGE) and LC-MS-based methods. LC-MS methods include those that use isotopic labeling (iTRAQ®, SILAC, ICAT, etc.), as well as the relatively new label-free method. Both iTRAQ and label-free methods have been widely used in a variety of studies and shown to provide reliable quantitative results. Quantitative proteomics can be applied in many research areas, including disease mechanisms, biomarker screening, disease-resistant breeding, as well as the study of pathogens, functional microbes, etc.
Benefits:
Flexible choices: Both label-free and iTRAQ quantitation are available.
High-resolution and accurate instrumentation:LTQ Orbitrap Velos™ with resolving power up to 100,000 and 1 ppm mass accuracy.
High throughput: 8 samples can be analyzed in a single run by iTRAQ, while the label-free method can be used for large-scale samples.
Comparative Evaluation of Two Isobaric Labeling Tags, DiART and iTRAQ. Anal. Chem. 2012, 20; 84(6):2908-2915.
Isobaric tags have broad applications in both basic and translational research, as demonstrated by the widely used isobaric tag for relative and absolute quantitation (iTRAQ). However, recent results from large-scale quantitative proteomics projects indicate that protein quantification by iTRAQ is often biased in complex biological samples. BGI reported the application of another isobaric tag, deuterium isobaric amine reactive tag (DiART), for quantifying the proteome of Thermoanaerobacter tengcongensis (T. tengcongensis), a thermophilic bacterium first discovered in China. It compared the performance of DiART with iTRAQ from several different aspects, including their fragmentation mechanisms, the number of identified proteins, and the accuracy of quantification. The results revealed that DiART is a valuable alternative of iTRAQ with enhanced performance for quantitative proteomics, and DiART has more benefits than iTRAQ, such as yielding stronger reporter ions, exhibiting less reporter ions ratio compression, etc.
Workflow:
Figure 1. Workflow of Quantitative Proteomics
Bioinformatics:
Standard bioinformatics analysis
Data statistics
Protein identification
Protein quantification
Protein GO classification
Protein COG analysis
Protein pathway analysis
GO enrichment analysis of differential proteins
Pathway enrichment analysis of differential proteins

Expression pattern cluster analysis of multi-samples (more than three samples)
Custom Bioinformatics Analysis:
Comparative analysis of proteome and transcriptome data.
Comparative analysis of proteome and transcriptome results.
Comparative analysis of differentially expressed proteins and differentially expressed transcripts.
Expression pattern cluster analysis of proteome and transcriptome results.
Protein-protein interaction network analysis (provided for some species).
Customized analyses to meet the requirements of specific projects.
Sample Requirements:
Mass Spectrometry Platform
Triple TOFTM 5600 and LTQ Orbitrap VelosTM
Research Strategy
iTRAQ or label-free
Standard turnaround time

iTRAQ: Approximately 40 business days
Label-free: Approximately 60 business days