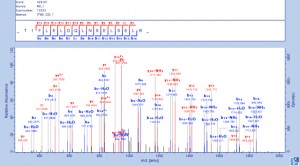 Protein identification can be performed on a variety of samples, including protein gel spots, protein gel bands, IP samples, etc. Proteins are analyzed either by MALDI-TOF/TOF or by nanoLC-ESI-MS/MS and then identified using peptide masses or MS/MS fragmentation spectra. We provide your protein identification results in an electronic report that also includes bioinformatics analysis results, such as GO and pathway analysis.
Benefits:
High resolution and accuracy: LTQ Orbitrap VelosTM with resolving power up to 100,000 and 1 ppm mass accuracy.
Ultra-fast scanning speed:UltrafleXtremeTM MALDI-TOF/TOF with 1 kHz smartbeam IITM laser technology speed in both TOF and TOF/TOF modes.
High sensitivity: Identification of proteins present at nanogram levels.
Proteomics Study of Rice Embryogenesis: Discovery of the Embryogenesis-Dependent Globulins. Electrophoresis 2012, 33, 1129–1138.
In general, the complex process of embryogenesis results from the action of a coordinated network of genes. Here we carefully analyzed the rice embryos using two-dimensional gel electrophoresis (2DE) and matrix-assisted laser desorption-ionization time of flight/time of flight mass spectrometry (MALDI TOF/TOF MS) to identify the stage-dependent proteins. 53 spots were identified from the total of 66 spots which were discovered to be regulated during embryogenesis, and the further examination result showed that the multiple forms of globulins were produced as a result of enhanced proteolysis during embryogenesis, indicating that these globulin forms may serve as chaperone proteins participating in the formation of multiple protein complexes during embryogenesis.
Workflow:
Figure 1. Workflow of Protein Identification
Bioinformatics:
Standard bioinformatics analysis
Statistical analysis and quality control
Protein identification
Protein GO category analysis (only for LC-MS/MS)
Protein COG category analysis (only for LC-MS/MS)
Protein pathway analysis (only for LC-MS/MS)
Sample Requirements:
SDS-PAGE slices or 2D-PAGE gel particles with a volume ≥ 1.5mm3. Coomassie stain is preferred over silver, but both staining spots should be visible. If using silver, do not fix the gel with glutaraldehyde. Ensure that samples are sent within one week after gel electrophoresis, otherwise, the gel should be kept at 4°C.
Single protein identification:
Solution or powder samples which are soluble in water: protein ≥ 10µg.
Powder samples that are sparingly soluble in water: protein ≥ 50µg.
Mass Spectrometry Platform
UltrafleXtremeTM and LTQ Orbitrap VelosTM

Research Strategy
MALDI-TOF/TOF and LC-MS/MS
Standard turnaround time
Gel spots: ~15 business days
Gel bands: ~20 business days