Humanitarian Initiatives
BGI believes in the principles of moral conduct and integrity, as well as corporate social responsibility. We strive to contribute to society through our science, innovation and expertise. Below is a short list of our efforts towards this goal.
Deadly E. coli in Germany
The outbreak of deadly E. coli O104 strain in Germany and then in Europe in May and June 2011 caused the death of more than 40 people and affected the health of thousands of people worldwide. BGI and its collaborators at the University Medical Centre Hamburg-Eppendorf applied second and third generation sequencing technologies to generate the complete map of the deadly strain in less than two weeks. The assembled genome was opened to the public before being published, and PCR primer sequences were developed for rapid identification of this highly infectious bacterium.
BGI Releases A Complete De Novo E. coli O104 Genome Assembly and is Making Their Detection Kit Protocols and Synthesized Primers Freely Available to Worldwide Disease Control and Research Agencies
"Crowdsourcing killer outbreaks" Video
Aid to Thalassemia Children and the Chinese Marrow Donor Program (CMDP)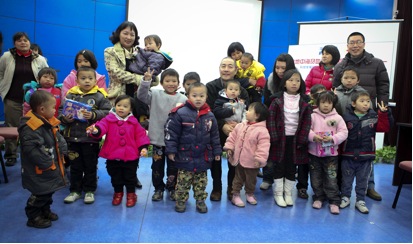 Thalassemia is a hereditary disease affecting mostly children that stops production of normal red blood cells. Treatment consists of regular costly blood transfusions and the only cure is a bone marrow transplantation. BGI, in collaboration with the Shenzhen Red Cross, brought 30 such children from Huizhou to Shenzhen to receive high-resolution HLA typing and testing services.
In 2010, BGI helped CMDP to assemble 120,956 high-resolution HAL typing samples, which significantly speed up searching for bone marrow donors and have already saved many patients' lives. On Jan. 25, 2011, the Red Cross Society of China awarded BGI its highest honor, the China Red Cross Medal, for our contributions to the CMDP.
DNA Identification of Indian Ocean Tsunami Victims
At the end of 2004, BGI sent a team of five members to aid in relief efforts after the devastating Tsunami in Thailand. The institute provided sequencing services to identify the victims.
SARS Project
In 2003, BGI completed the genome sequence of the SARS virus within 36 hours and developed a first-generation kit for detecting the virus. The institute donated 300,000 of these test kits for use in clinical applications.