Metagenomics is the study of genomes of a whole microbial community. It has opened up a new era in the study of microbial diversity with direct access to the genomes of numerous uncultivable microorganisms in their natural habitat. Metagenomics has been applied in environmental studies as well as biomarker research. BGI offers a complete range of metagenomics solutions:
16S rDNA tagging: general taxonomics classification
Whole genome metagenomic sequencing
Establish microbial gene catalogue
Human microbe & related disease association analysis
Metatranscriptome survey
Benefits:
No need to culture samples (Most microbes non-culturable)
Study microbes in the native environment
Detect more novel microbes and genes from the environmental microbial community
High-throughput, cost-effective reads and sequencing
More accurate data due to lack of sample bias
Customer Testimonials:
"BGI has demonstrated incredible enthusiasm and resources in terms of sequencing capacity, technical development, and informatics expertise. The EMP is the largest sequencing project ever undertaken, and BGI is the biggest player in global sequencing so their participation is essential. BGI's commitment to scientific excellence makes them an ideal choice for developing a project of this scale."
Jack A. Gilbert, Ph.D., project director of Earth Microbiome Project and professor of University of Chicago and Argonne National Laboratory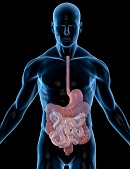 We are facing a global metabolic health crisis provoked by an obesity epidemic. Here we reported the human gut microbial composition in a population sample of 123 non-obese and 169 obese Danish individuals. This study showed for the first time that only a few bacterial species are sufficient to distinguish between individuals with high and low bacterial richness, and even between lean and obese participants. Our classifications based on variation in the gut microbiome identified subsets of individuals in the general white adult population who may be at increased risk of progressing to adiposity-associated co-morbidities.
Assessment and characterization of gut microbiota has become a major research area in human disease, including type 2 diabetes, the most prevalent endocrine disease worldwide. Our work here laid an important foundation for comprehensively understanding the genetic characteristics of gut microbiota and their relationship to T2D risk, as well as providing a new way of classifying microbes detected by DNA sequence. The work here also opened the way for transferring the potential value of a gut-microbiota-based approach into a means for clinical assessment and diagnosis of patients at risk of this disease. High-throughput sequencing technologies and Metagenomics serve as robust tools for researchers to comprehensively explore the gut microbiota related with diseases, and shed new light into disease prevention and treatment.
In 2010, BGI established the first human microbial gene catalogue by Metagenomics sequencing. In order to understand the impact of gut microbes on human health and well-being, 124 faecal samples of European individuals were sequenced. This study confirmed that bacterial species abundance and bacterial genes differentiated between healthy individuals and disease affected patients. These findings offer an important theoretical basis for further exploring the relationship between human gut microbes, obesity, enteritis, and other diseases.
Workflow:
Bioinformatics Analysis:
Species composition analysis
Short reads assembly
Gene prediction
Gene functional annotation
Statistical analysis of the results
For multiple samples, the comparative analysis between different samples and the association studies can also be provided.
Sample Requirements:
Metagenomics sequencing should be discussed case by case, and a proposal can be provided after the discussion of your project requirements.
Whole Genome Metagenomic Sequencing/ Establishing a Microbial Gene Catalogue:
For the microbial genomic DNA, the sample requirements are:
Purity: OD260/280=1.8-2.0
Concentration: ≥50ng/μl
DNA amount: single library preparation starts from at least 5μg, and the total amount should be determined case by case.
16S rDNA Tagging:
For the PCR products, the sample requirements are:
Purity: OD260/280=1.8-2.0
Concentration: ≥50ng/μl
DNA amount: single library preparation starts from at least 5μg, and the total amount should be determined case by case.