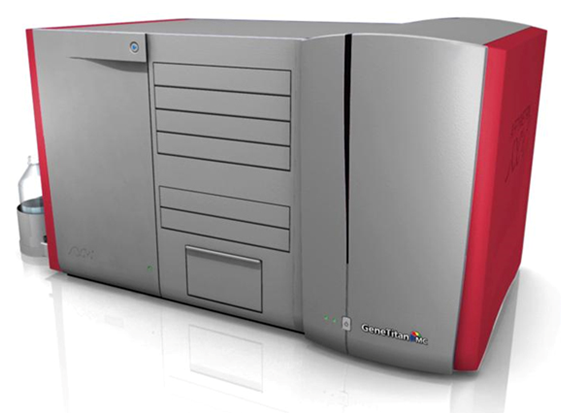 Affymetrix Axiom® genotyping solution provides pre-designed and custom arrays. The Axiom® Catalog Array includes human, bovine, buffalo, chicken, etc. Moreover, the Axiom® myDesign™ Array Genotyping Services enable you to create fully or semi-customized genotyping arrays containing 1,500 to 2.6 million markers. As a global advanced semiconductor-based photolithography manufacturer in GeneChips, Axiom® microarray has high specificity and sensitivity, especially low false positive rate.
Benefits:
Semiconductor-based photolithography, high sensitivity and low false positive rate
GeneTitan® MC system, fully automated and high-throughput
Microarray kit for multiracial populations
Personalized solutions to polyploidy research
Up to 2.6 million custom markers
Affymetrix Genotyping Chips:
Species/Population

Array Name

SNP Number

Human biological samples

Biobank

675k

European

CEU 1

587k

EUR 1

674k

African

PanAFR

2.21M

AFR

893k

Indian, European, African

LAT 1

817k

East Asian

ASI 1

600k

EAS 1

712k

Chinese People

CHB 1 & 2

1.28M

Human

HumanExome

319k

Bovine

BOS1 Bovine

648k

Buffalo

Buffalo

90k

Chicken

Chicken

580k

All species

Axiom MyDesign

1.5k-2.6M
Coming soon..
Bioinformatics:
Standard Bioinformatics Analysis
Data production and SNP calling
Sample level QC: Sample call rate, sample mix, gender identification (human only)
SNP level QC: SNP call rate, signal quality test, Hardy Weinberg equilibrium test
Advanced Bioinformatics Analysis- Human
Imputation: Predict unknown genotypes with the known genotype and impute the missing data
Association analysis: Analyze the relationship between the haplotype and the phenotype of SNPs, analyze the interactions among genes, and construct the interaction network
Advanced Bioinformatics Analysis- Animal & Plant
Population analysis

Imputation
Phylogeny tree analysis
Population structure analysis
Principal component analysis

Genetic mapping

Genetic map construction
QTL mapping analysis (with phenotype data)
Integration of genetic map (with original map of the same mapping populations)
Sample Requirements:
Sample condition: DNA samples, no degradation or slight degradation
Sample quantity (for library construction once): amount≥ 500 ng DNA (≥ 1μg is recommended)
Sample concentration: ≥ 30 ng/μl
Sample purity: OD260/280=1.8-2.0
Turnaround Time:
The standard turnaround time for the workflow is about 15 workdays for fewer than 96 samples as the chips and samples are ready. (Advanced bioinformatics analysis is not included and the exact time is based on the chips used in the project specified in the contract).
Completion Indicator:
The average SNP call rate should be no less than 95%.