Technologies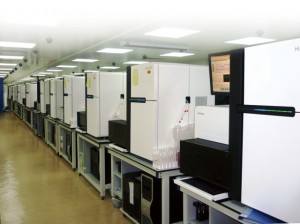 Key to our unmatched breadth of service is the depth of our technology. BGI has amassed the industry's most comprehensive array of state-of-the-art sequencing, multi-omic and bioinformatic technology platforms. These include technologies both developed by BGI and obtained from the leading manufacturers and suppliers in their respective applications, including sequencing, exome capture, genotyping, optical mapping and proteomics mass spectrometry.
While next-generation technologies are accessible in the market today, it's what you do with that technology that makes the difference. This is where BGI excels, for in addition to offering the widest array of technology for generating reliable, high-quality data, we also provide extensive bioinformatics capabilities and bring analytical, interpretative skills to convert that data into knowledge.
BGI: Cutting-edge technologies, innovative software and data analytics, all in one stop, and all carefully monitored by strict internal quality control and data security systems.